What are Portable Toilets?
Modern portable toilets were first conceived during World War II.  The owners of the shipyards in Long Beach, New Jersey, realized that the employees were losing a lot of valuable work time in the long trek from the ships back to the docks to answer nature's call. They decided to construct small, portable cubicles that were made with wood or metal and contained a small holding tank. As a result, workers were happier and more productive, and this invention marked the start of the portable toilet industry.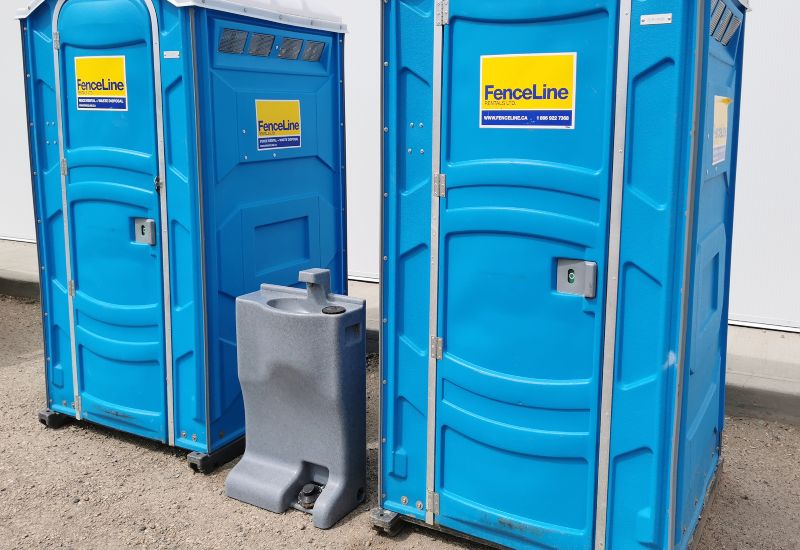 Here are a few facts about portable toilets that may surprise you:
The Widest Variety of Portable Toilets
There are several types of modern portable toilets, each designed for the specific needs of the customer. At Fenceline Rentals, Ltd. we have all of these toilets in stock and ready to deliver to your job site or event venue.
Standard blue toilets-These are the ones you'll see most often. Each one contains a toilet, a urinal, toilet paper, and hand sanitizer.
Executive hard sided toilets-These are more upscale and are comfortable even in the winter. They're very sturdy and have a poly tank and base. They come with a 1250-watt force air baseboard heater with a thermostat. These bathrooms also feature a light, deadbolt locking system, and coat hook.
Insulated toilets- These offer an economical solution for heated bathrooms at your worksite. They have a forced air heater to keep the unit at a comfortable temperature in even the coldest weather. These units include an insulated cover that helps to keep the interior warm.
Wheelchair-accessible toilets-These units are designed to accommodate individuals who use wheelchairs. The wider doorways and ground-level floor access make this unit easy to access. The unit also features smooth handrails inside, and the door is self-closing.
High rise toilets-These are designed specifically for use at high-rise construction sites. These units are much smaller and lighter, making them easy to lift by crane or elevator into higher portions of the building construction, and they're narrow enough to fit through doorways and onto elevators.
We've all seen portable toilets at construction sites, but here are a few other uses of portable toilets:
Movie Sets
Natural Disasters
Special Events
Road Races
Campgrounds
Weddings
Private Parties
Parades
Renting or purchasing portable toilets offers many benefits to you and your workers:
Customization-The number of portable toilets and their configuration at a job site or event is totally flexible and can be updated quickly as the customer's needs change
Eco friendly-As stated earlier, portable toilets use far less water than regular flush toilets.
Sanitary-The use of portable toilets offers a flexible way to comply with CCOHS standards for Jobsite sanitation.
Safety & Efficiency-Providing portable washrooms is an excellent way to increase productivity, safety, and efficiency, as well as keep workers happy and comfortable.
Why Choose Fenceline Rentals Ltd
Fenceline Rentals Ltd has been serving the Edmonton area with portable toilets for over 20 years.
We work with you to ensure that your toilets are delivered and set up properly and on time.
We have earned a solid reputation in the area, and many of our customers have been using our services for 10 years or more.
We have over 800 active ongoing projects, but we are able to provide our customers with the personal attention each one deserves.
We believe in giving back to the community that we serve, by donating $ 30,000 in services every year to local nonprofits and charities.
Fenceline Rentals Ltd. has been a locally owned business in Edmonton, AB since 1998, supplying events in the area with temporary fence rentals, portable toilet rentals, recycling services, dog runs, and much more. We continue to expand our products into new markets, and you can always count on us for reliable service. When you work with us, we strive to establish a relationship with you, which we reinforce with value-added solutions for your event needs.
Our company believes in giving back to the community, and we actively donate our services to local charities and not-for-profit organizations every year. If you're looking for a rental company with a dedication to safety and complete customer satisfaction, put your trust in FenceLine Rentals, Ltd. We have the products you need to keep your events running smoothly. For more information, visit our website, or call us at 780-720-6300