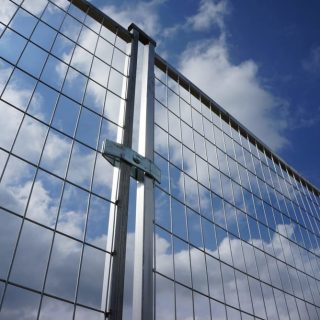 ---
Did you know Fenceline sells temporary fence panels? We are a temporary fence rental company that has been in business for 20 years. We know fence and have the best selection in the Edmonton area.
Types of Fence
We carry a variety of fence, including heavy duty grade and economy grade. Panels can be purchased new or used. Of course, we also sell bases, couplers and gates to go along with your fence purchase. New fence panels are hot-dipped galvanized finish and have a long lasting finish (10+ years). We are the only company in Alberta to offer hot-dipped coating.
Fenceline offers a flexible and versatile fencing system for any use. Our modular fence system starts with our 2', 4', 6', 10'  wide panels to allow any configuration. We carry two types of man gates, a basic gate and a deluxe gate. Our regular 10' wide panels can also act as a vehicle gate.
Common Uses for Fence
The most common uses of temporary fence are construction projects, events, and animal enclosures.
When working on a construction project, you need to keep the site secure, only allowing in those who are authorized to be there.

As an event organizer, you need a way to control entry and exit into the event and help the flow of foot traffic. Temporary fencing is the best way to ensure your event goes off without a hitch. This easy solution can transform an open field into a highly organized space with designated entrances, exits, and event spaces.
If your home does not have an enclosed yard space, temporary fence can enable you to create a custom dog run, kennel, or animal enclosure on your property.
Pick it up and set up yourself or have it delivered and set up by us. Fence is in stock, come to our facility to see it for yourself. We have no minimum orders, straight forward pricing and volume discounts. We ship anywhere in Canada.
---