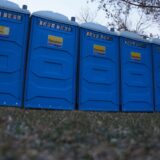 Fenceline's portable toilets are the perfect rental solution for any party or event in need of outdoor or additional restroom facilities. Below is a compilation of answers to questions we commonly receive from clients. Should you have any further questions, do not hesitate to contact us.
How many portable toilets will you need?
If you are having trouble trying to calculate the amount of portable toilets your event requires, our representatives will be happy to assist you in determining the logistics.
We often ask our clients the following questions:
How many guests are expected?
Will food be served?
Will alcohol be served?
What is the duration of the event?
What type of terrain is the venue on?
Is there a water supply?
Where should the portable toilets be placed?
If your guests have to walk long distances in search of a restroom, this can detract from their overall event experience. It's a good idea to put the portable toilets in places that are easily accessible from various sections of the event. We can guide you in choosing the best location for your portable toilet.
When considering where to place a portable toilet, consider these guidelines:
Place in a dry, level location
Consider accessibility – centrally located or strategically scattered
Keep within the vicinity of where food and beverages will be served
How do you keep the portable toilet clean throughout the event?
Having a clean portable toilet is essential to any successful outdoor event. The more portable toilets you have to accommodate the guests, the cleaner all portable bathrooms will be. Another option would be to keep your portable bathroom clean and problem free by hiring a bathroom attendant.
Fenceline Rentals Ltd. has a wide range of portable toilets available. Visit our website or call us at 780-720-6300 to learn more about our services.