Portable toilets are a wonderful asset to an outdoor event.  But, let's face it, they can provide either a positive or not-so-positive experience depending on their conditions.  As with most things in life, preparation is key!
When planning for an outdoor event, all the elements as well as traffic flow and the number of attendees should be carefully considered.  The weather conditions alone can have a huge impact on the cleanliness and functionality of your portable toilets, particularly during festivals and races or other athletic events when guests are coming and going through potentially muddy areas. Windy conditions can also cause your portable toilets to become unsafe.
Don't become bogged down with the weight of these decisions! We at FenceLine Rentals Ltd. have some suggestions for keeping your portable toilets clean and fully functional! Let's explore ways that you can be ready to create the most positive portable t­­­­­­­­­­oilet experience possible for your guests!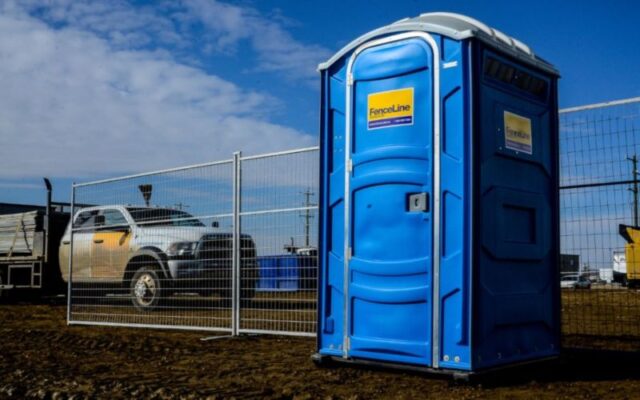 Management of your Portable Toilets
Hard surfaces and flat spaces, such as parking lots, provide stability and mess-free areas that can reduce mud from being tracked in and causing slippery and dirty conditions.  Additionally, it may be more possible to place portable toilets near a building or fence, which would provide a natural wind barrier and can prevent it from being blown over.
We realize that, while parking lots are ideal, they are not always convenient or available. If it is necessary to place portable toilets on the grass, gravel, or dirt area, there are a few other options as well.  Portable toilets may be covered to block rain and strong winds, staked for security, or may use a special step platform with a rubber mat to prevent mud from entering the toilet cubical by allowing it to drain through the mat.
Knowing the number of people needing to access as well as the duration of guests' stay is critical to the success of the unit.  The typical rule for the accommodations is that, for 4 hours, you need 1 portable toilet per 50 individuals. If there is food and/ or alcohol at the event, this number may need to increase slightly.  Additionally, more portable toilets are needed if there are significantly more women than men and the total should increase by 10%-20%.
If the portable toilets are being used for a work site, a good number is one toilet per 10 workers.
No matter the location or duration, preparing the space and knowing the number of people you will be serving is vital to the ease and success at which your portable toilets may be accessed and used.
Essentials for Maintenance
Bad smells in a portable toilet are a direct indication of the lack of cleanliness, health, and safety. Depending on the usage, a portable toilet should be cleaned once a week. A unit should be completely pumped, and the hose should be all of the ways at the bottom and to the side in order to prevent debris from being sucked and clogged in the hose. When a portable toilet is cleaned, the septic tank is refilled with an additive that breaks down and cleans the waste.  When cleaning, the door to the unit should be kept open, allowing the odors and air to circulate. Fresh air is also important to provide between cleanings. Cleaning surfaces (floors and other surfaces) with warm, soapy water with, perhaps, a pressure water gun removes the most germs. Routine cleaning and maintenance ensure the health, safety, and integrity of the toilet. The waste can be hazardous if not disposed of carefully and properly.  Therefore, waste management should be performed by a certified and regulated company for the best maintenance and safety of the toilets.
Facts about Portable Toilets
Flushable toilets were invented in 1596 but were not used until 1851.  Portable toilets were not invented until the 1940s!
Portable toilets are actually safer than flushing toilets because flushing allows germs to become airborne, thus spreading diseases into the air.
Let FenceLine Rentals, Ltd. Help you with your Portable Toilet Needs
When plumbing solutions just aren't feasible, our portable toilets are available to help make your event the best experience possible for your guests.
FenceLine Rentals Ltd. wants to help ensure that your location is ready for a team of workers or attendees. Our friendly staff are based in Edmonton and have served the Alberta area since 1998.
We offer many portable services, including handwashing stations, portable toilet rentals, waste management, and temporary fence rentals and sales.
Our team of experts can help you make your next gathering or project the most successful! Please contact us at 780-720-6300 or look us up online at FenceLine Rentals Ltd so that we may help you learn about the many options that we provide.